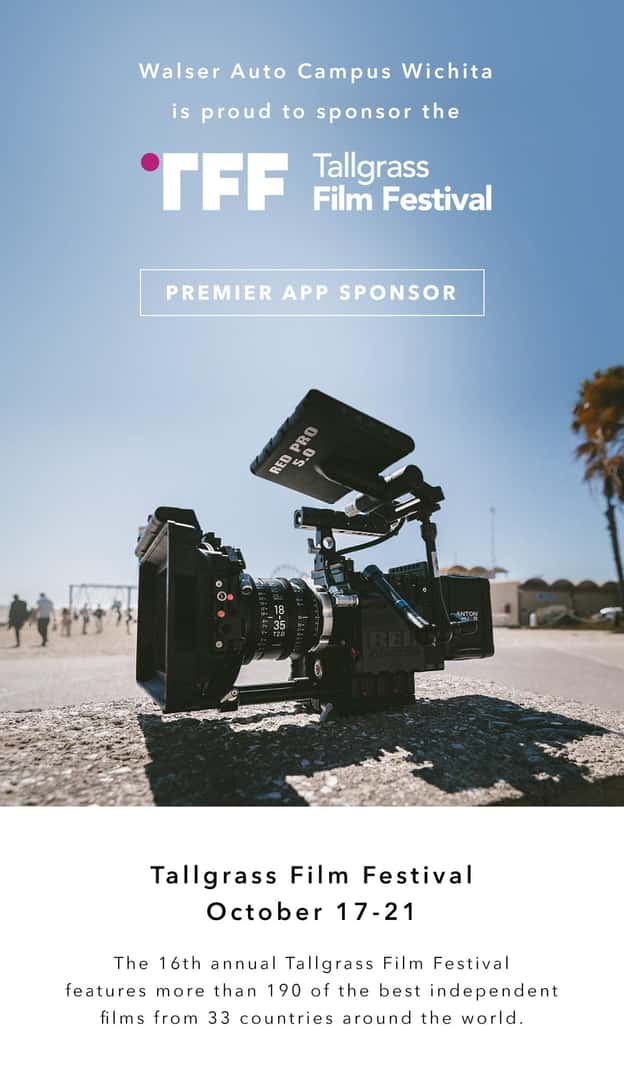 The 16th Annual Tallgrass International Film Festival presented by Consolidated Equities Trust (October 18-22) today announced the films that will compete this year in Tallgrass's Stubbornly Independent and DOXX Spotlight competitions.
The five finalists in the Stubbornly Independent competition include:
H.P. Mendoza's BITTER MELON
Will McFadden's DOUBTING THOMAS
Sara Radle's ELEVEN HUNDRED TO LUBBOCK
Adam Cushman's THE MAESTRO
Nitzan Mager & Shanchar Langlevm's A SCIENTIST'S GUIDE TO LIVING AND DYING
This year's DOXX Spotlight finalists include:
Marion Lipschutz & Rose Rosenblatt's BEI BEI
Lis Bartlett's LIGHT IN THE WATER
Sahra Mani's A THOUSAND GIRLS LIKE ME
Regarding the Stubbornly Independent hopefuls, Tallgrass Film Festival's Programing Director Nick Pope said, "It's hard to imagine five stories that could be more different and unique in comparison to the others within the same group. And that is one of the great things about this competition, as year-after-year it demonstrates to our Wichita audiences that oftentimes a limited filmmaking budget only increases the odds that the creativity and accomplishment in making these films will be that much greater."
Gretchen Mitchell, Tallgrass's co-Director of Programming, was equally enthusiastic about this year's DOXX Competition finalists, saying, "Our second year presenting the DOXX Competition has once again succeeded in giving us the opportunity to highlight the great work being done by female documentarians and their unique perspective on finding fascinating stories needing to be told, and then having the the skill and vision to explore those issues and real life from a woman's perspective,"
This year marks the 7th year of the SI competition, where eligible films must be domestic narrative feature films made for $500,000 or less without traditional, theatrical, domestic distribution at the time of the festival screening. Finalists will be juried by a panel of industry professionals including director Cory Bowles (BLACK COP), Graham Fine (The Film Sales Company) and Carroll Gelderman (Cinetic Media)
The Stubbornly Independent competition winner will be announced with the Tallgrass Film Festival's lineup next month and will be featured as the Stubbornly Independent Gala Spotlight selection sponsored by Rick & Monica Nutt on Saturday, October 20. The winner will also receive the Jake Euker Stubbornly Independent Award and a $5,000 cash prize. The three runners up will be included as official selections in the festival and will be eligible for the Audience Award for Narrative Feature and $2,500 cash prize.
The 2018 Tallgrass FF Stubbornly Independent Finalists
BITTER MELON
Director: H.P. Mendoza
Country: USA, Running Time: 96 min
When a Filipino-American family reunites for a Christmas party, the holiday takes a dark turn when they conspire to murder the abusive bully of the family.
DOUBTING THOMAS
Director: Will McFadden
Country: USA, Running Time: 80 min
After a white couple inexplicably gives birth to a black child, the purest bonds of trust, friendship, and love are put to the ultimate test.
ELEVEN HUNDRED TO LUBBOCK
Director: Sara Radle
Country: USA, Running Time: 99 min
A group of unlikely friends pay tribute to their recently deceased loved one by relay-running his ashes across the country.
THE MAESTRO
Director: Adam Cushman
Country: USA, Running Time: 97 min
After the Second World War, budding film composer Jerry Herst moves to Hollywood to study with infamous master teacher Mario Castelnuovo-Tedesco.
A SCIENTIST'S GUIDE TO LIVING AND DYING
Directors: Nitzan Mager & Shachar Langlevm
Country: USA, Running Time: 77 min
Obsessed with finding answers in her groundbreaking genetic research, a young scientist is thrown into free-fall when she becomes pregnant with her dead husband's child and is suddenly confronted by the unknowable — absorbed into a realm of mystical female consciousness both terrifying and transcendent.
The 2018 Stubbornly Independent Competition Jurors
Cory Bowles
Cory Bowles is a multidisciplinary artist from Nova Scotia, Canada. Most known for "Cory" in the TV series TRAILER PARK BOYS, he currently serves as a director, receiving a nomination for the 2016 DGC award for Outstanding Direction in a Comedy Series. As principal choreographer and director of the companies Verve Mwendo Dance, and Black Rabbit Entertainment, he has created over 70 works/choreographies for stage and film – his work reflecting his fascination to racial identity, social and cultural structures. After making a number of award winning short films, his first feature film BLACK COP (2017) premiered at the Toronto International Film festival, was a special presentation by The Historic Black Police Precinct in Miami Florida. and went on to earn Best Canadian Feature at the 2017 Vancouver International Film Festival, Best Narrative Feature at the St. Louis International Film Festival and a Canadian Screen Award (John Dunning Discovery Prize), The Screen Nova Scotia Sward for Best Feature.
Graham Fine
Graham Fine is Manager of Acquisitions at The Film Sales Company, where he focuses on discovering new talent and projects, strategizing festival play, and aiding the Sales team in strategizing and closing deals. The Company is unrelenting in securing distribution for independently produced narrative and documentary features, with over 200 titles sold since 2002 to a diverse group of domestic and foreign buyers.
Carroll Gelderman
Carroll Gelderman works in the sales division at Cinetic Media, a film and media advisory firm with expertise in raising and structuring independent film finance, North American and international sales, talent management and corporate advisory services. Since joining the company in 2015, Carroll has been involved in the sales of notable festival titles CITY OF GHOSTS, STRONG ISLAND, KEEP THE CHANGE, WASTED, JIM AND ANDY, and recent Sundance 2018 hits SCIENCE FAIR, RBG, THE SENTENCE, and WE THE ANIMALS. She also facilitated the domestic festival roll outs of such titles as OBIT, EN EL SEPTIMO DIA, and Brett Morgen's JANE.
The 2018 Tallgrass FF DOXX Finalists
BEI BEI
Directors: Marion Lipschutz & Rose Rosenblatt
Country: USA, Running Time: 76 min
A legal and political drama with two extraordinary women at its center: one, a Chinese immigrant charged with first degree murder and the other, a successful white collar lawyer who unwittingly finds herself defending a woman against legally unprecedented charges.
LIGHT IN THE WATER
Director: Lis Bartlett
Country: USA, Running Time: 75 min
The story of West Hollywood Aquatics, the first openly gay swim team and water polo club.
A THOUSAND GIRLS LIKE ME
Director: Sahra Mani
Countries: France/Afghanistan, Running Time: 81 min
When a 23-year-old Afghan woman, Khatera, confronts the will of her family and the traditions of her country to seek justice for years of sexual abuse from her father, she sheds light on the faulty Afghan judicial system and the women it rarely protects.
The 2018 DOXX Competition Jurors
Robin Berghaus
Robin Berghaus has directed, produced, filmed and edited more than 100 short documentaries, commercials, and educational videos. Her debut feature documentary STUMPED has garnered multiple awards and honors, including the 2017 DOXX Spotlight Competition. She is a recipient of grants from LEF Foundation, Austin Film Society, Frameline and Women in Film Dallas. Her work has been exhibited at the British Film Institute, Palm Springs International Film Festival, Frameline, and as part of the Alfred P. Sloan Foundation's Science on Screen series. Robin is a speaker and panelist for festivals, universities, high schools and organizations. She serves as a film envoy for American Film Showcase, a cultural diplomacy program of the U.S. State Department.
Rebecca Celli
Rebecca Celli is the Director of Sales, Marketing + Acquisitions at cutting-edge documentary distributor Cargo Film and Releasing. In the past year, she's worked on films including Joe Berlinger's INTENT TO DESTROY (Tribeca, IDFA), Netizens (Tribeca), CHASING TRANE (TIFF), BECOMING WHO I WAS (MoMA DocFortnight, Berlinale). Rebecca also programs film series, advises festivals and writes criticism about the intersection between documentary, digital art and the body for journals like the Colorado Independent, Precog, and Duplex Magazine.
Lisa Tawil
Lisa Tawil is the Vice President of Marketing and Communications at ITVS, where she is responsible for marketing, communications, creative services, engagement, and distribution of ITVS documentaries. In this role, Lisa has overseen four years of audience growth for the award-winning series Independent Lens and launched Independent Lens's first digital-content channel, Indie Lens Storycast. She was also instrumental in developing and leading ITVS' strategy which gained institutional recognition with the Peabody Institutional Award in 2017 and the Governor's Award awarded at the Creative Arts Emmys by the Television Academy Board of Governors in 2017. Under her leadership the marketing and creative teams were recognized by Promax, Golden Trailers, Telly's, and the NAMIC Emma's for excellence and multicultural marketing. Lisa has sat on the judging panels for top industry marketing awards such as Emmys, the Mark Awards, and the Webby's. She is a member of Women in Cable Television (WICT), Women in Film, Promax, and National Association of Multi-Ethnicity in Communications (NAMIC).
Film Legend & Cinema Icon Pam Grier to receive Tallgrass Film Festival's 2018 Ad Astra Award.
The Tallgrass Film Association today announced that film legend and 70's cinema icon, Pam Grier, will be this year's recipient of the Ad Astra Award during the 16th edition of the Tallgrass Film Festival Presented by Consolidated Equities Trust (October 17-21) in Wichita, Kansas.
Tallgrass Film Festival's Program Director Nick Pope said, "Pam Grier is someone that Tallgrass has sought to bring to Wichita and honor for the longest time. She is the iconic feminine face of urban cinema in the 70s. A prime inspiration both for an entire genre's mainstream success, a muse for multiple filmmakers, and an inspiration and trend-setter for many actors and filmmakers that followed, it will e the biggest thrill to welcome her and celebrate her career."
Tallgrass will present the Ad Astra Award to Grier at the Orpheum Theater (200 N Broadway Street) followed by a "Conversation on Film" prior to a screening of her classic film directed by Quentin Tarantino, JACKIE BROWN, on Thursday, October 18 at 6:30PM. The special evening will conclude with a late-night screening of one of Grier's 70s staples, COFFY, at Roxy's Downtown (412 E. Douglas Avenue) at 11:15PM.
TALLPass holders have access to the ceremony & both screenings– tickets to individual events will be general admission (GA) for the public. ($15 for Ad Astra/Jackie Brown, $10 for Coffy)
Born on May 26, 1949 in Winston-Salem, North Carolina, and raised in Denver, Colorado, Pam Grier was spotted by an agent at a beauty contest in Colorado Springs, who invited her to come to Hollywood and try her hand at acting. She subsequently moved to Los Angeles and began taking acting classes while she worked as a switchboard operator for American International Pictures. Soon after, she had made it onto the big screen in BEYOND THE VALLEY OF THE DOLLS (1970) and BIG DOLL HOUSE (1971.)
Following appearances in HIT MAN (1972) and BLACK MAMA, WHITE MAMA (1973), Grier gained notice in Jack Hill's COFFY (1973) as the title character, "the baddest one-chick hit-squad that ever hit town." The next year, she cemented her status as the undisputed queen of urban cinema as the high-class prostitute out for revenge in Hill's FOXY BROWN (1974.)
Grier solidified her status as a film star throughout the 70s with a string of films including SCREAM BLACULA SCREAM (1973), SHEBA, BABY (1975), BUCKTOWN (1975) with Fred Williamson, FRIDAY FOSTER (1975), and GREASED LIGHTNING (1977) opposite Richard Pryor. The 80s were highlighted by FORT APACHE, THE BRONX (1981) with Paul Newman, the Ray Bradbury classic, SOMETHING WICKED THIS WAY COMES (1983), and the Steven Seagal actioner ABOVE THE LAW (1988), as well as regular turns on the television via Michael Mann's "Crime Story" and "Miami Vice."
Grier continued to work in both film and television throughout the 90s with memorable appearances in John Carpenter's ESCAPE FROM LA (1996) and Tim Burton's MARS ATTACKS (1996). However, it was Quentin Tarantino's JACKIE BROWN (1997) that offered the actress an opportunity to play a character tailor-made for her unique brand of strength and charisma, resulting in the best critical notices of her career as well as her first Best Actress nominations for both a SAG Award and the Golden Globes. Roles in the thriller IN TOO DEEP (1999) and Jane Campion's HOLY SMOKE (1999) immediately followed, as well as a reunion with Carpenter on his film GHOSTS OF MARS (2001). Grier became a very familiar sight on television as well, with appearances on several series culminating in a regular stints on "Law & Order: Special Victims Unit" (2002-2003) and Showtime's "The L Word" (2004-2009). On the big screen, Grier has most recently been seen in Tom Hanks's LARRY CROWNE (2011), Rza's THE MAN WITH THE IRON FISTS (2012), and last year's BAD GRANDMAS, and ROSE.
Purchase your TALLPass for complete access to 5 days of film, parties, VIP treatment and more.
Passes for the 16th Annual Tallgrass Film Festival are on sale now. Grab yours for an earlybird price of $210 while supplies last.
The VIP TALLPass is the best way to experience the Tallgrass Film Festival in its entirety – with full access to our VIP lounge, where we roll out the red carpet and offer full bar service, meals, hors d'oeuvres and a relaxing place to kick back and mingle with fellow VIPs.
The pass also grants you access to all film screenings, including Galas and our unmissable parties.
Grab yours now before the price rises to $250!
Tallgrass Film Festival Reveals New Logo & Festival Artwork
The Tallgrass Film Association unveils a new logo and identity for the Tallgrass International Film Festival Presented by Consolidated EquitiesTrust, which will debut this year, during the 16th edition of the popular film festival (October17-21). The new logo was developed by TFA's partners at creative agency Howerton &White.
While rolling out the new logo, the Tallgrass Film Association will retain the previous logo as well. "We intend to expand the Association's activities outside of the Festival and felt that it was important for the Festival itself to have a logo that was current, unique, and readily identifiable," said Executive Director Paul Melroy. "Howerton-White did a terrificjob in creating this logo. It presents just the right image for our brand."
The logo was unveiled at Central Standard Brewing as the Tallgrass International FilmFestival kicked off its all-access TALLPass sale for this year's "Sweet 16" edition of the fest.
Passes to the festival can be purchased through the Tallgrass website at tallgrassfilm.org for a limited time at the discounted price of $175, which grants passholders entry to the entire festival, which includes five days of films, parties, panels, and VIP lounge access.
Filmmakers still have time to submit their films for consideration for Tallgrass through FilmFreeway or Withoutabox. The late deadline for film submissions is June 15, with the extended (and final) deadline one month away, on July 6.
Tallgrass Film Festival
SUBMIT YOUR FILM!
Tallgrass Is Now Accepting Submissions for the 2018 Festival
2017 Festival Award Winners
Tallgrass Film Fest Adds DOX Spotlight
SUBMIT YOUR FILM!
"Tallgrass is constantly striving to outdo itself. From the programming, to the parties, to the top notch hospitality, whatever it takes to get back to Tallgrass–I'm there." – Skye Borgman, Director, Forever "B".
Tallgrass Is Now Accepting Submissions for the 2018 Festival
Tallgrass Film Association (TFA) announces the call for submissions for the 16th annual Tallgrass Film Festival, October 17-21, 2018 in and around downtown Wichita, Kansas. Tallgrass has been included in MovieMaker Magazine's annual "50 Film Festivals Worth the Entry Fee" for the last three years.
Films should be submitted through FilmFreeway or Withoutabox.
Deadlines & Important Dates:
January 2, 2018: Submissions Open
April 1, 2018: Earlybird Deadline
May 1, 2018: Regular Deadline
June 15, 2018: Late Deadline
July 6, 2018: Extended Deadline
October 5, 2018 – Notification date
October 17 – 21, 2018: Festival date
Fees:
Features:
Early Bird Deadline: $40/$30 student
Regular Deadline: $50/$40 student
Late Deadline: $100/$75 student
Extended Deadline: $125/$100 student
Shorts:
Early Bird Deadline: $15
Regular Deadline: $25
Late Deadline: $50
Extended Deadline: $75
Awards & Prizes:
Tallgrass Film Festival will grant cash awards in the following categories:
Audience Award Winning Documentary Feature: $2,500
Audience Award Winning Narrative Feature: $2,500
Stubbornly Independent Gala Winner: $5,000, as well as a gala screening and one-of-a-kind Tallgrass tap handle
Audience Award Winning Short Documentary Film: $1,000
Audience Award Winning Short Narrative Film: $1,000
DOX Spotlight: $1,500, as well as a Spotlight screening and an award
Best Kansas Filmmaker Documentary Short Film: $500
Best Kansas Filmmaker Narrative Short Film: $500
Non-cash special recognition awards include: